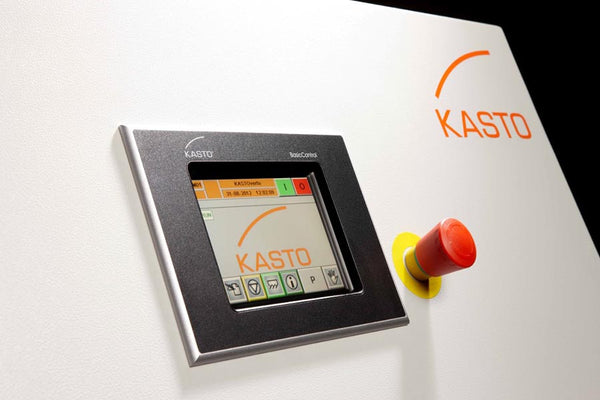 KASTOverto A 2 - Edition "More Comfort"
Available within 9 weeks.
The space-saving fully automatic machine for economical sawing

Only here in the KASTOshop: Brand new, directly from the manufacturer, with original KASTO service, at the best price!
Fully Hydraulic High Performance Straight Cut Band Sawing Machine with vertically running and horizontally movable saw blade for mass production cuts of easy to difficult materials, in solids, tubes and profiles. The standard precise linear guides (re-circulating ball units with grease lubricated guide carriage) guarantee maximum life.
The standard BasicControl operator's panel ensures optimum machine operation via function keys. For mass production, up to 98 data records can be pre-selected via touch-screen. After making the desired number of cuts, the machine shuts off automatically. By reducing set-up times to a minimum, maximum cutting performances are achieved in automatic mode. The precise drive via ball screw spindle in material feed guarantees an accurate material length positioning.
The Frequency controlled screw drive, electronic supervision of the minimum number of revolutions and saw band breakage control are standard.
An infinitely variable fully hydraulic saw feed guarantees sensitive and tool-saving cutting.
Included equipment
Machine Column
Fully Enclosed Workspace
Saw Unit (Saw Frame)
Guidance of the Saw Unit
Saw Band Guidance
Saw Band Tensioning
Cleaning of Saw Band
Chip Flow
Clearance Stroke system for Saw Blade
Material Clamping - Machine Clamping Vice
Material Clamping - Feed Vice
Automatic NC Material Feed
Single Cuts or Small Series
Remote Adjustment of the Cutting Speed
SpeedControl

 

(Electrical monitoring of low RPM)
Material Infeed
Material Outfeed
Hydraulic System
KASTO Control for Sawing Machines BasicControl
Included optional equipment
BandControl
LED machine lamp
Automatic zero positioning of the first cut-off piece
Coolant hose for machine cleaning
Clamping power regulation
Vertical roller
Scope of Supply
KASTOverto A 2 -

 

including the described standard and optional equipment
Glue anchors to dowel the machine
Bi-metal saw blade
1 operating instructions manual according to the EU Machinery Directive and EN 82079
We will be pleased to advise you individually if you require equipment which is not sold through the KASTOshop.
Technical data
Cutting range

| | |
| --- | --- |
| Cutting range 90° round | 260 mm |
| Cutting range 90° flat (W x H) | 320 x 260 mm |
| Cutting range 90° square | 260 x 260 mm |
| Smallest cut-off length | 6 mm |
| Smallest dimension to be cut | 10 mm |
| Shortest length of residual piece, single cut | 15 mm |
| Shortest length of residual piece, automatic operation | 40 mm |
Dimensions and weight

| | |
| --- | --- |
| Length | 2365 mm |
| Width without chip conveyor | 1350 mm |
| Width with chip conveyor | 2250 mm |
| Height | 1767 mm |
| Material support height | 950 mm |
| Total weight | 1260 kg |
Performance characteristics
Saw motor, frequency controlled
1.5 kW
Total power
2.5 kW
Material feed length, individual cut
850 mm
Multiple feed
9999 mm
Cutting speed, infinitely adjustable
12-120 m/min
Dimensions of saw blade
3180 x 27 x 0.9 mm
Cutting feed:
hydraulically adjustable 0-300 mm/min
Material feed:
ball screw spindle
Material clamping:
hydraulic
Saw blade cleaning:
by easily replaceable wire brush, driven proportionally to main drive
Coolant:

Coolant supply is through 3 nozzles
volume of coolant tank approx. 100 l
pump capacity 25 l/min.
More Details
KASTO Control for Sawing Machines

BasicControl

Hardware, Software

Industrial type terminal in robust system unit case
Display and operation at 5.7" colour touch screen
Infrared touch screen with scratchproof front pane made of laminated glass
Software and data keeping on exchangeable multimedia card
Interfaces:
Integrated soft PLC, programmable in STEP 7®
Visualization software for graphical operation, data entry and display
Decentralized input and output modules, each with 16 digital inputs and outputs, 2 analogue inputs and outputs and 1 input for counter/measuring system

Functions

Job memory for entry of 99 jobs. The job is defined by entry of
Tables of material qualities with allocation of the cutting speed for HSS saw blades
Job entry during sawing process is possible.
The desired piece number can be corrected also in a job being processed.
Direct adaptation of cutting speed during operation by override function
Display of automatic correcting values for cutting speed
Possibility to start either individual cut or automatic cut
With or without trim cut (available as option for model KASTOverto A 2)
Automatic processing of successive cutting jobs for one material quality
Tool data management of the saw blade being used, display of its running time in hours. Reset possible when saw blade has been exchanged.
Display of cutting time, of cycle time and of the expected end of the current cutting job
Working hour meter for "main switch ON" and "saw ON". Additional working hour meter for "saw ON" with reset function.
Cut counter and additional cut counter with reset function
Online change-over of language between German, English and French (additional languages = option)
Change-over of measuring unit (entry and display) from mm/m to inch/feet

Operation

Easy to operate and clearly structured control panel, adapted to its use in workshops
Look and feel adapted to other KASTO control systems, extensive use of graphical operating symbols
All submenus for
are callable directly from the main menu.
Visualization of process making possible that all data required during operation can be displayed and corrected on one screen page
Manual operation of basic machine and its peripheral equipment via touchscreen

Diagnosis

Display of a message and error list with date and time in the diagnostic menu. Display of the latest error in the main menu. In case of an error, the display changes automatically to the main menu.
Diagnostic menu for direct display of status of the digital inputs/outputs and display of all analog inputs/outputs
Display of preset scheduled value, of actual value, of state and error as well as hand operation for positioning axes
Entry and modification of sawing machine parameters and system parameters at display
Password protection for diagnostic menus without general right to admission
Details equipment

Machine Column

Heavy-duty, distortion-free welded construction

Fully Enclosed Workspace

The KASTOverto A 2 is equipped with a fully enclosed workspace. A high degree of safety and cleanliness is achieved with best accessibility at the material infeed and outfeed side.

Saw Unit (Saw Frame)

Distortion-free welded construction, modular design, with vibration optimised ribbing: Using the latest design, technology and manufacturing methods, an extremely quiet and vibration-free operation is achieved. This means shorter cutting times and longer blade life (foundation free assembly).

Guidance of the Saw Unit

Two linear guide units with backlash-free carriages guarantee a high rigidity and cut precision. The greased guide carriages guarantee maximum usable life.

Saw Band Guidance

Side guidance via mechanically preloaded carbide guides with quick release for fast band change. The band back is guided via rollers. Manual adaptation of saw band guidance arm to material cross section via scale.

Saw Band Tensioning

Hydraulic, electrically monitored, with automatic pressure reduction at standstill of machine. Automatic stop in case of band breakage.

Cleaning of Saw Band

Via chip removal brush, synchronised with cutting speed.

Chip Flow

Plane and steep walls guarantee an ideal chip flow directly into the serial chip drawer or into the optional chip conveyor.

Clearance Stroke system for Saw Blade

Before return stroke of the saw unit the material to be cut is retracted in automatic cycle from the cutting surface. The wear at the tooth tips is reduced, longer blade life can be achieved.

Material Clamping - Machine Clamping Vice

The hydraulic and linear guided horizontal full stroke double clamping vice enables an optimum work piece clamping on both sides of the saw band, also for cutting of short remnant pieces.

Material Clamping - Feed Vice

Hydraulic and linear guided horizontal clamping vice with integrated material-end feeler.

Automatic NC Material Feed

Via linear guided feed vice. Safe material transport, even with forged work pieces. Material feed length 850 mm, standard multiple feed, short cut lengths up to 250 mm are achieved by an incremental feed. Material feed via ball bearing spindle.

Single Cuts or Small Series

Single cuts can be realized under consistent compliance of all safety measures in the fully enclosed workspace.

Remote Adjustment of the Cutting Speed

Central operation of the infinitely adjustable cutting speed 12 -120 m/min through switch +/- at the BasicControl.

SpeedControl (Electrical monitoring of low RPM)

Below the minimum RPM, the machine stops automatically.

Material Infeed

Via a continuous transport roller conveyor with 12 ball bearing transportation rollers, integrated into the machine.

Material Outfeed

Via large-dimensioned and easy removable support table of 400 x 300 mm as well as a replaceable coolant splash guard if necessary incl. the safety device.

Hydraulic System
In block design, exchangeable, built into the machine base and easily accessible from the outside. This reduces maintenance times for oil control and filter change to a minimum.
Details optional equipment

BandControl

Continuous band deviation control after activation of the BC-Control in 1/10 mm measured value, Input – BandControl ON/OFF (reduction of the cutting height down to 220 mm)

LED machine lamp

Automatic zero positioning of the first cut-off piece

After having entered the requested cut-off length and number of pieces and after having activated the control function "zero positioning", the first cut-off piece is at once positioned fully automatically at the requested cut-off length and then cut.

Coolant hose for machine cleaning

Clamping power regulation

By means of handwheel with reading at pressure gauge

Vertical roller

In extension with the material supporting edge, guarantees undisturbed material feed.
Bases of the quotation

Mains voltage: In accordance with EN 60204; 400 V three-phase current (-10 %, +6 %); Control voltage 24 V-DC

Mains frequency: 50 Hz (-1 %, +1 %; transient –2 %, +2 %)

Type of mains: TN mains according to IEC 364/VDE 0100

The power is supplied from the mains to the switching cabinets including advance fusing by the customer. The position of the switch cabinet is to be seen from the lay-out.

Protective measures against indirect contact: Over-current protector (zero balancing). The mains supply of the operator (size and characteris-tic of the main fuse selected as well as the total imped-ance of PE and outer conductor in the supply line to the machine) has to be designed in such a way that the per-missible shutdown time in the event of an error is not exceeded. The use of a differential current switch in the mains in-coming supply is not permitted.

Safety requirements: The offered machine corresponds with the valid safety requirements according to the machinery directive 2006/42/EG

Subject to the individual conditions of use and to the in-stallation site, additional equipment such as fences, safety light beams and barriers in the area of material supply and cut-off removal may be necessary. Possibly, such additional equipments are not included in our scope of supply and must therefore be procured by the buyer.

Delivery terms: Possibly valid company's own operating material regula-tions have not been taken into consideration when work-ing out the offer, unless they are specifically mentioned in the quotation. The machine will be equipped with proven components selected by KASTO. If you insist on the ob-servance of your operating material regulations we kindly ask you to make these regulations available to us for working out the appropriate offer. After placing the order, any specifications can no longer be considered. This is also valid for so called fire protection regulations.

Cutting accuracy: On perfect conditions with perfect tools the deviation of cut is within ±0.1 mm per 100 mm cutting height with standard steel qualities. For material with a perfect geo-metric surface an accuracy of length of cut-off pieces in accordance with ISO 2768-1, degree of accuracy fine is achievable with individual bars and cut-off pieces longer 6 mm. When using uneven, twisted or burred initial ma-terial, the achievement of the mentioned cutting accura-cies is restricted. The tolerance of length of cut-off pieces is valid for machines with automatic material feed.
Warranty

This sawing machine is particularly suitable for easily to normally machinable materials in solid material, tubes and profiles. Only conditionally suitable are materials that are difficult to machine as well as plastics. An application up to two-shift production operation is envisaged. The specified cutting ranges and performance characteristics must be observed. The use of uneven, twisted or burred starting material can severely impair the cutting accuracy. For more detailed information on the correct use of the machine, please refer to the operating instructions. Disregarding this area of application and/or General Terms and Conditions can lead to the warranty claims becoming void.