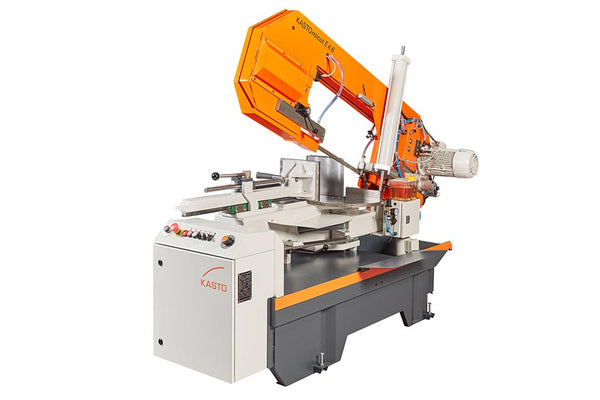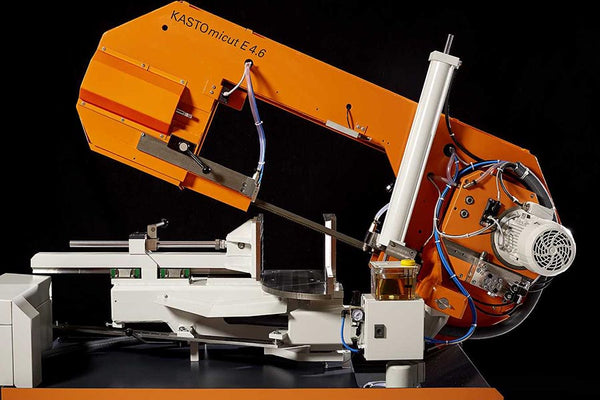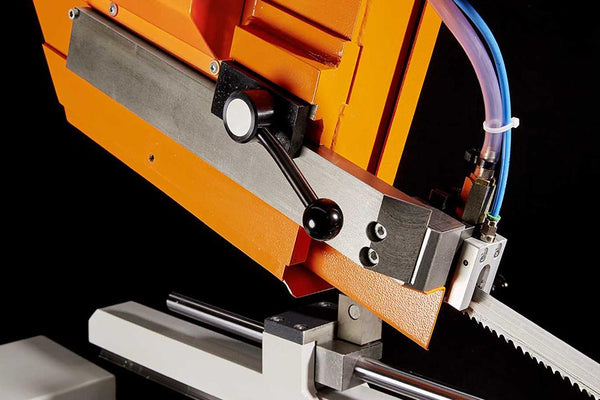 KASTOmicut E 4.6 - Edition "More Efficiency"
Regular price
€20.160,00
Sale price
€22.902,00
plus sales tax and shipping.Shipping costs to the buyer's destination will be agreed individually afterwards.
Available within 9 weeks.
Manual swiveling frame bandsaw
Only here in the KASTOshop: Brand new, directly from the manufacturer, with original KASTO service, at the best price!
Universal bandsawing machine of very robust construction, designed to perform any cutting-to-length or mitre cutting tasks (0°/+60°) mainly in the case of beams, tubes and profiles (included optional equipment: a coolant system for cutting of solid material in straight cuts with emulsion cooling) in workshops. The infinitely adjustable cutting speed and the infinitely adjustable cutting feed allow a sensitive and blade-saving cutting.
Included equipment
Machine Base
Saw Unit (Saw Frame)
Inclined Saw Head
Saw Blade Guide
Saw Blade Tension
Swarf Removal at Saw Blade
Material Clamping (Machine Vice)
Material Support (Cutting Rail)
 Mitre Cutting without Length Correction
Feed Control
Micro-Spray Lubrication System
Operation
Mitre Adjustment
Included optional equipment
Linear laser

Coolant system 
Scope of Supply
KASTOmicut E 4.6 including the described standard and optional equipment
Bi-metal saw blade
Glue anchors to dowel the machine
Operationg instruction manual according to the EU Machinery Directive and EN 82079
We will be pleased to advise you individually if you require equipment which is not sold through the KASTOshop.
Technical Data
Cutting range

| | |
| --- | --- |
| Cutting range 90° round (⚫/⚪) | 160 / 335 mm |
| Cutting range 90° flat (W x H) (⬜) | 460 x 335 mm |
| Cutting range 90° square (⬛) | 160 x 160 mm |
| Cutting range 90° square (⬜) | 335 x 335 mm |
| Cutting range  45° round (⚪)  | 320 mm |
| Cutting range  + 45° flat (W x H) (⬜)  | 280 x 335 mm |
| Cutting range  + 45° square (⬜)  | 300 x 300 mm |
| Cutting range  + 60° round (⚪)         | 210 mm |
| Cutting range  + 60° flat (W x H) (⬜)  | 180 x 335 mm |
| Cutting range  + 60° square (⬜)  | 200 x 200 mm |
| Shortest remnant length  | 30 mm |
| Smallest diameter to be cut  | 10 mm |
Dimensions and weight

| | |
| --- | --- |
| Length x Width | 855 x 2220 mm |
| Height, saw head lowered position | 1240 mm |
| Height, saw head in highest position  | 1950 mm |
| Material support height | 700 mm |
| Total weight | 755 kg |
Performance characteristics
| | |
| --- | --- |
| Total power | 2.0 kW |
| Saw motor, power | 1.5 kW |
| Cutting speed | 20 – 110 m/min |
| Dimensions of saw blade:  | 3830 x 27 x 0.9 mm |
| Saw blade guides: | roller guide and back roller, replaceable |
| Material clamping: | mechanical |
| Cutting feed: | hydraulic, infinitely variable |
| Saw blade tension: | mechanical |
| Saw blade cleaning: | by synchronously running, easily replaceable wire brush |
|   | |
| Micro-spray lubrication system: | Filling 1 l, incl. 3 l spray coolant, working pressure at least 5 bar. |
More Details