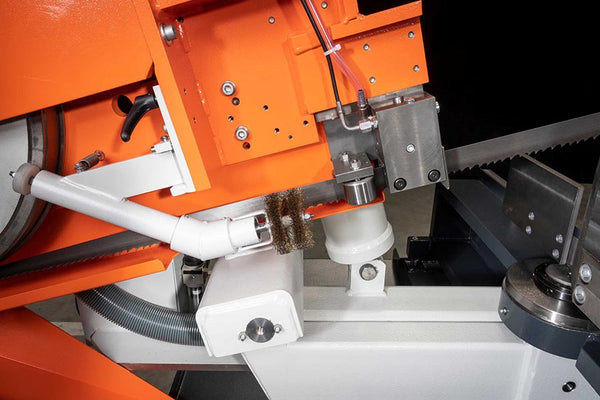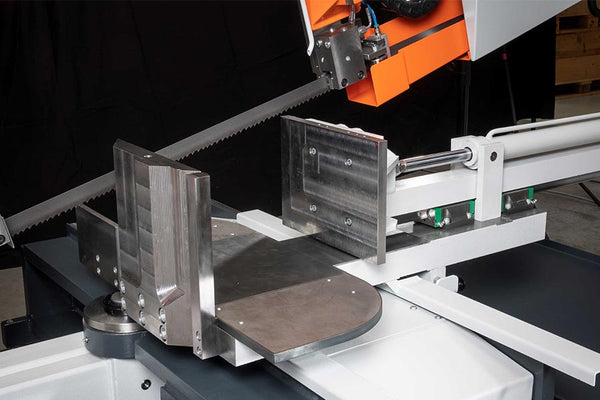 KASTOmicut U 4.6 - Edition "More Comfort"
Regular price
€26.270,00
Sale price
€29.843,00
plus sales tax and shipping.Shipping costs to the buyer's destination will be agreed individually afterwards.
Available within 3 months.
Semi-automatic swivelling frame bandsaw

Only here in the KASTOshop: Brand new, directly from the manufacturer, with original KASTO service, at the best price!
Universal, semi-automatic bandsawing machine of very robust construction, designed to perform any cutting-to-length or mitre cutting tasks (-45°/+60°) mainly in the case of beams, tubes and profiles in workshops and production sector. The infinitely adjustable cutting speed and the infinitely adjustable cutting feed allow a sensitive and blade-saving cutting.
Included equipment
Machine Base
Saw Unit (Saw Frame)
Inclined Saw Head
Saw Blade Guide
Saw Blade Tension
Swarf Removal at Saw Blade
Material Clamping, Machine Vice
Material Support (Cutting Rail)
Mitre Cutting without Length Correction
Feed Control
Feed Control with KASTO Universal Hydraulics UH
Micro-Spray Lubrication System
Operation

Mitre Adjustment

Hydraulic System
Included optional equipment
Scope of Supply
KASTOmicut U 4.6 including the described standard and optional equipment
Bi-metal saw blade
Glue anchors to dowel the machine
Operating instruction manual according to the EU Machinery Directive and EN 82079
We will be pleased to advise you individually if you require equipment which is not sold through the KASTOshop.

Technical Data
Cutting range

Cutting range 90° round
335 mm

Cutting range

 

90° flat (W x H)
520 x 335 mm

Cutting range 

90° square
335 x 335 mm

Cutting range 

+/- 45°

 

round

335 mm

Cutting range 

+/- 45°

 

flat 

(W x H)

390 x 335 mm

Cutting range 

+/- 45°

 

square

335 x 335 mm


Cutting range 

+ 60°

 

round



280 mm

Cutting range 

+ 60°

 

flat 

(W x H)



260 x 335 mm

Cutting range 

+ 60°

 

square

260 x 260 mm
Shortest remnant length
30 mm
Shortest cut-off length
10 mm
Smallest diameter to be cut
10 mm
Dimensions and weight

| | |
| --- | --- |
| Lenght x Width | 1.540 x 3.010 mm |
| Height, saw head in lowered position | 1.560 mm |
| Height, saw head in highest position | 2.360 mm |
| Material support height | 700 mm |
| Total weight | 2.000 kg |
Performance characteristics
Total power
5,0 kW
Saw motor, power

4 kW
Cutting speed
12 – 150 m/min
Dimensions of saw blade
6.190 x 34 x 1,1 mm
Saw blade guides
carbide guide and back roller, replaceable
Material clamping
hydraulic
Cutting feed
hydraulic, infinitely variable
Saw blade tension
hydraulic
Saw blade cleaning

by easily replaceable wire brush, running synchronously with blade speed

Micro-spray lubrication system
Filling 1 l, incl. 3 l spray coolant, working pressure at least 5 bar
Colour

Light grey RAL 7035, structural painting Anthracite grey RAL 7016, structural painting 

Pure orange RAL 2004, structural painting
More Details
KASTO Control for Sawing Machines

AdvancedControl

Hardware

Industrial personal computer, fanless, no movable components
Robust metal casing, front sheet made of aluminium
Resistive touch screen
TFT colour screen 7", WQVGA, colour depth 16 bit
Seamless front foil
Protection category front panel IP65

Interfaces

1 x Ethernet (10/100 Mbit)
2 x USB Master
1 x CANopen (interface for connection of decentralized peripheral devices)
1 x serial RS232

Software

Operating system Windows CE 6.0
Soft-PLC (programming language Step7®)

Decentralized peripheral devices

Input/output module(s) with 16 digital inputs and outputs each as well as one analogue input and output. Display of signal condition via LED.
Connection of input/output modules and drive control system via standard field bus CANopen

Program function

Visualization:

Ergonomic, shop-floor-oriented operation via colour touch panel
Operation based on the standardized user interface and the uniform operation philosophy of all KASTO controls
Clear separation between navigation and function
Fast access via status bar
Title of the current operation page in clear text
Operator guidance by means of operating advices, e.g. changeover of operation categories, tool exchange etc.
Online change of language
Change of units metric/imperial
Change of material table (EN, AISI, JIS)
Display of axis for service purposes
Display of current warnings/disturbances
Fast access to history of warnings and disturbances with detailed information in clear text via status bar

Job entry:

Easy and clear job entry via job wizard
Display of current wizard position in clear text
Simple and understandable symbols
Selection of material quality (solid square, thick-walled square tube, thin-walled square tube, solid round, thick-walled round tube, thin-walled round tube) via graphic symbols
Preselection of technology data (cutting speed, saw feed) by means of direct entry or selection in the material table
Material table with assignment of exemplary materials to the proposed technology data and integrated filter function for fast access. Material table is editable.

Job management:

It is easy to save the latest job data incl. technology data
Saving under alphanumeric job number, e.g. drawing number, part number
Easy selection and recall of saved orders via order number
Integrated filter function for fast access

Tool management:

Easy entry of tool data
Tool monitoring concerning blade life or cutting surface
Indication of blade life
Entry of tooth pitch for the calculation of the optimum saw feed
Selection of a general reduction or increase of the nominal values for cutting speed and saw feed via slide control

Types to start (may differ, depending on machine type):

"Automatic start": Put the material manually to the cutting position and start cutting job.
"Manual zero positioning start": Put the leading edge of the material to any position in t
he outfeed vice. Measure the distance between the leading edge of the material and the saw blade and enter this value in the control system. Start the cutting job. Correcting measures for the cut-off length of the first cut-off piece are calculated by the control system. The first cut-off piece without trim cut is positioned automatically to the cut-off length.
"Start individual cut": Move the material manually to the cutting position and start the individual cut. Job entry is not necessary. As an option, a correcting value for the cut-off length can be entered.
"Automatic start for remnants": same as "automatic start", but the material is not clamped anew in the infeed vice.
"Manual zero positioning start for remnants": same as "manual zero positioning start", but the material is not clamped anew in the infeed vice.

Process visualization:

Clearly arranged display of the job in process
Override function for blade speed and saw feed speed
Number of pieces and length can be changed during the running job
Further jobs can be entered during automatic operation
Display of automatic single correction values for cutting speed and saw feed
Operation-hour counter, statistic functions:
Operation-hour counter for "Machine ON" and "Saw motor ON".
Further operation-hour counter "Saw motor ON" resettable.
Display of current cutting times: "Time per cut" and "Cycle time"
Pre-calculation and display of current job end time
Piece counter total and piece counter resettable

Special functions:

Automatic adaptation of technology data, e.g. by cut-in process for new tools, consideration of tooth pitch etc.
Optimization for remnants (automat)

If the material ends in the ongoing cutting job, the length of the existing remnant is measured and it is checked if cutting jobs for shorter cut-off lengths exist in the ongoing block of cutting jobs. If they exist, the cutting job is changed automatically until no more cut-off pieces can be cut from the existing remnant.
Details equipment

Machine Base

The machine base is an enclosed, torsion-free welded construction. The user-friendly support height of 700 mm and the ergonomic design ensure an ideal position for material supply and allow an easy chip removal. The possibility of easy machine transport using a forklift truck is given.

Saw Unit (Saw Frame)

Torsion-resistant welded construction, optimized against vibration, with backlash-free pivot bearing for low-vibration and precise cutting of profiles and solid material. In conjunction with the integrated powerful bevel gear and a 4 kW drive, a high cutting force, adapted to the requirements, is achieved.

Inclined Saw Head

Cutting through with a saw blade that rises from the material guide edge in cutting direction. This reduces formation of burr and the cutting time per cut. Simultaneously, the saw blade is saved.

Saw Blade Guide

The lateral guiding is effected by means of hydraulically pretensioned carbide slideways with clearance stroke system for rapid exchange of saw blade without tools. Back guide by means of rollers.

Saw Blade Tension

Hydraulic, electrically monitored, with automatic pressure reduction at standstill of machine. Automatic stop in case of blade breakage.

Swarf Removal at Saw Blade

By means of a driven brush that is synchronised with the blade speed.

Material Clamping, Machine Vice

By means of a hydraulically actuated horizontal vice, placed right-angled to the material guide edge. Two linear guides guarantee fast and easy, manual positioning on the left or right side of the saw frame, according to the mitre positioning. Including an infinitely variable clamping power regulation 20 – 50 bar.

Material Support (Cutting Rail)

The mitre angle is set independently of the material weight. A simple cutting rail supports the material very close to the cutting slot and avoids formation of burr when cutting through.

Mitre Cutting without Length Correction

The "ideal" centre of rotation of the saw unit is at the point of intersection of the saw blade and the material supporting edge. This ensures accurate cut-off lengths. A length correction is not necessary when the mitre angle is changed. The mitre angle is set via the clearly readable angular scale. The mitre positions in a 15° grid can quickly be preset by means of fixed stops. A clamping lever fixes the mitre position.

Feed Control

The saw feed is effected via an infinitely variable hydraulic cylinder for universal use in solid and profile material.

Feed Control with KASTO Universal Hydraulics UH

This means constant feed speed when solid material is cut or constant cutting power when profiles and tubes are cut. The requested value can be preselected at the control panel. The KASTO Universal Hydraulic System guarantees an optimum adaptation of the feed to the cross section to be cut as well as an automatic overload protection of the saw blade. The feed speed is infinitely preselectable. It can be supervised and optimised via cutting pressure manometer.

Micro-Spray Lubrication System

For coolants and lubricants including automatic monitoring for cutting of tubes and profiles. Filling 1 . Incl. 3 l spray coolant. Working pressure at least 5 bar. Waterless and dustless air supply by customers.

Operation

The operating elements are arranged ergonomically and centrally at a stand-alone control panel.

Mitre Adjustment

Manual adjustment of the mitre cut angle in a 15° grid between -45° and +60°. 

Hydraulic System
Executed in block construction, installed in the machine base, removable. In that way, maintenance time for oil-level control and exchange of filter can be minimized.
Details optional equipment

Linear laser

For projecting the cutting line at the work piece
Bases of the quotation

Mains voltage: In accordance with EN 60204; 400 V three-phase current (-10 %, +6 %); Control voltage 24 V-DC

Mains frequency: 50 Hz (-1 %, +1 %; transient –2 %, +2 %)

Type of mains: TN mains according to IEC 364/VDE 0100

The power is supplied from the mains to the switching cabinets including advance fusing by the customer. The position of the switch cabinet is to be seen from the lay-out.

Protective measures against indirect contact: Over-current protector (zero balancing). The mains supply of the operator (size and characteris-tic of the main fuse selected as well as the total imped-ance of PE and outer conductor in the supply line to the machine) has to be designed in such a way that the per-missible shutdown time in the event of an error is not exceeded. The use of a differential current switch in the mains in-coming supply is not permitted.

Safety requirements: The offered machine corresponds with the valid safety requirements according to the machinery directive 2006/42/EG

Subject to the individual conditions of use and to the in-stallation site, additional equipment such as fences, safety light beams and barriers in the area of material supply and cut-off removal may be necessary. Possibly, such additional equipments are not included in our scope of supply and must therefore be procured by the buyer.

Delivery terms: Possibly valid company's own operating material regula-tions have not been taken into consideration when work-ing out the offer, unless they are specifically mentioned in the quotation. The machine will be equipped with proven components selected by KASTO. If you insist on the ob-servance of your operating material regulations we kindly ask you to make these regulations available to us for working out the appropriate offer. After placing the order, any specifications can no longer be considered. This is also valid for so called fire protection regulations.

Cutting accuracy: On perfect conditions with perfect tools the deviation of cut is within ±0.1 mm per 100 mm cutting height with standard steel qualities. For material with a perfect geo-metric surface an accuracy of length of cut-off pieces in accordance with ISO 2768-1, degree of accuracy fine is achievable with individual bars and cut-off pieces longer 6 mm. When using uneven, twisted or burred initial ma-terial, the achievement of the mentioned cutting accura-cies is restricted. The tolerance of length of cut-off pieces is valid for machines with automatic material feed.
Warranty

This sawing machine is particularly suitable for normally machinable structural steels and aluminum in round, flat and square form, mainly in the profile range. Materials that are difficult to machine and plastics are only suitable to a limited extent. Occasional use in single-shift workshop operation is envisaged. The specified cutting ranges and performance characteristics must be observed. The use of uneven, twisted or burred starting material can severely impair the cutting accuracy. For more detailed information on the correct use of the machine, please refer to the operating instructions. Disregarding this area of application and/or General Terms and Conditions can lead to the warranty claims becoming void.